Filipino film John Denver is now playing in South Korean cinemas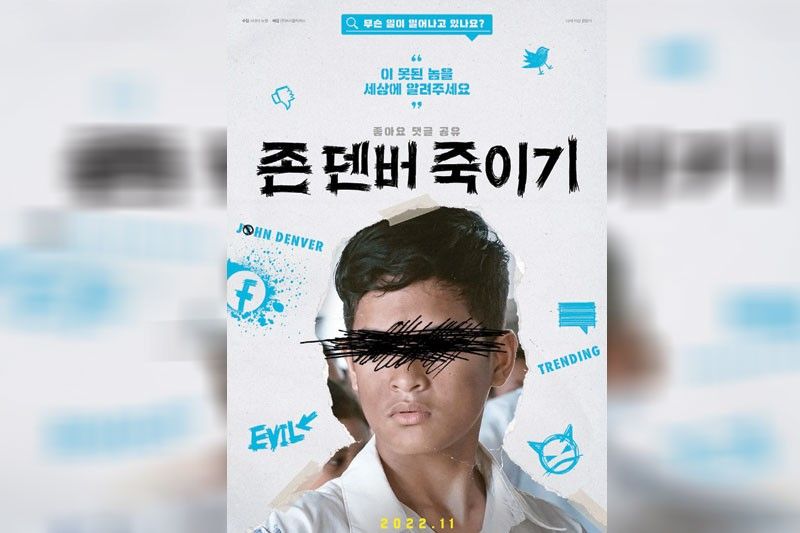 November 24, 2022 | 00:00
MANILA, Philippines — From a small town of Antique to Cinemalaya and now South Korea, director Arden Rod Condez is "still in disbelief" about how far his three-year-old film John Denver Trending has come. Making history as the first Filipino film to be widely screened in Korea, it is now showing in cinemas such as CGV, Lotte Cinema and Megabox.
Set in Pandan, Antique, the cautionary tale tells the story of John Denver Cabungcal (Jansen Magpusao) "who was branded a devil overnight with a single video uploaded (onto) social media." It also stars Meryll Soriano as John's mother, Marites Cabungcal.
John Denver Trending won a total of 15 awards at various international film festivals, including six awards at the 15th Independent Cinemalaya Film Festival (Best Film, Best Actor, Best Original Song, Editing, Cinematography, and NETPAC Jury Prize). It was nominated as Best Film, in the New Currents section, at the 24th Busan International Film Festival (BIFF) in 2019.
The Film Development Council of the Philippines (FDCP) recently announced that it was the "first Filipino film to be released with wide screenings all over Korea."
Direk Arden "never imagined" that his "little film" would get such recognition. "Who would have thought that a regional film in the Kinaray language and with almost all non-professional actors, could do that? We were just dreaming of it being screened at Cinemalaya, now it will be screened in major cities in South Korea. And then, the film is already three years old. Haha! Some filmmakers say it's unprecedented for a film this old to still get this kind of attention. Thanks to our very eager South Korean distributor," he told The STAR in an exclusive email interview.
After South Korea, he is eyeing a more international exhibition of film. Direk Arden and his team are currently in talks with a film programmer in Scotland for a screening there. They also plan to offer the film to other streaming services, targeting international territories, like North America, once their contract with IWantTFC expires next year.
Direk Arden shared that their Korean promotion team told them that "early reviews of the preview they held were positive." He added, "I don't expect a massive box office result, but I just hope that more people will watch the movie, including, of course, Filipinos living in South Korea. I hope that they won't miss this rare chance to see a film from home.
From 2020, their Korean distributor contacted them for a screening and after several negotiations, a contract was signed. However, the COVID-19 pandemic has occurred. Direk Arden recalled: "I thought it wouldn't happen anymore, but a few months ago (the distributor) just told us it's finally happening."
Moreover, he is also grateful to BIFF for selecting the film in 2019 to have its international premiere in Korea. "The film was exposed to so many film festival programmers and film distributors. That's how important film festivals are. It's not just for you to have their laurels, it's for your film to have a chance to be seen by the leaders of the film industry," said direk Arden.
As a regional filmmaker, he urged budding filmmakers to "always go local."
"Local but/and global. You can (still) tell a local or regional story, but as long as the emotions are real and sincere, your film will have an international audience. Because human emotions, no matter how they are dressed, will always be universal. In short, focus on the story first. Many up-and-coming filmmakers are still excited to shoot their films. But more time and energy should be spent developing the story first," he said.
"In addition, it is very important that regional filmmakers know about trends in world cinema. It's always changing. Be strategic. Know what international audiences want to see. After all, cinema is still a business. You can't just make a movie because you just want to make it. You'll probably spend thousands and millions to do this, so while you're doing it, already think about how you're going to present your movie to the world. Regional cinema is not just about making art or satisfying a passion, it still has to be sustainable," he added.
On why John Denver Trending still remains relevant years after its release, direk Arden commented, "Oh how I wish it weren't relevant anytime soon, because that would probably mean we've already learned our lesson. But no."
"Because we still live in a world where social media significantly affects our lives. We are in that age. We even elect government officials based on what we see on Facebook, YouTube and TikTok. Politicians fund internet troll farms. Magpakatotoo na tayo. Hindi tells you nothing too much and if you don't know too much. Even if you also perform in Hindi, one truth remains: we can affect people's lives," said the filmmaker.
"Everything we say on social media can affect some people. Because social media, as "social" as it is, can still be personal. Words can hurt. He can even kill. John Denver Trending will always remind us to be responsible for our use of social media," he continued.
Dandansoy by Direk Arden, also starring Jansen, recently won Best Short Film at the 45th Gawad Urian Awards.